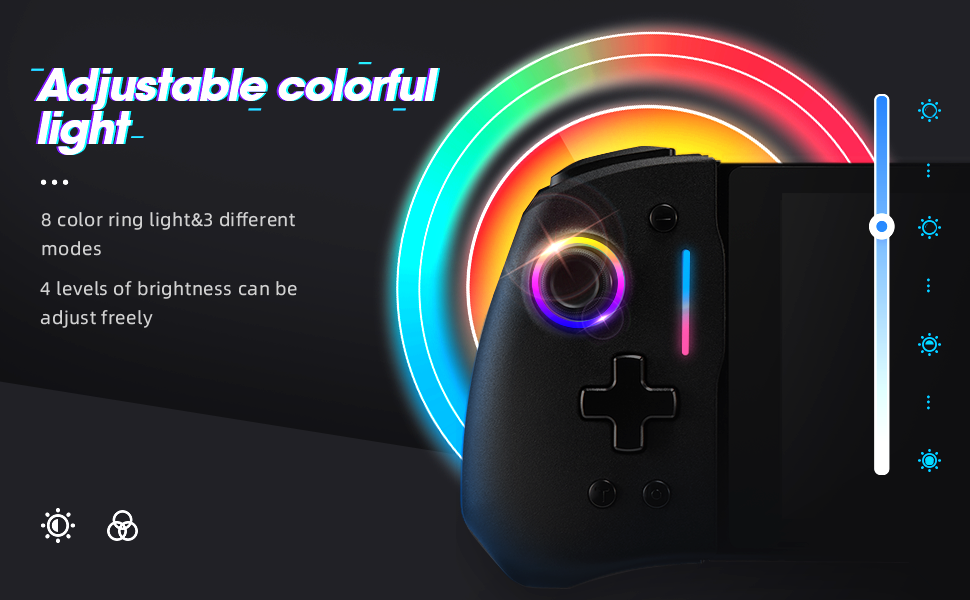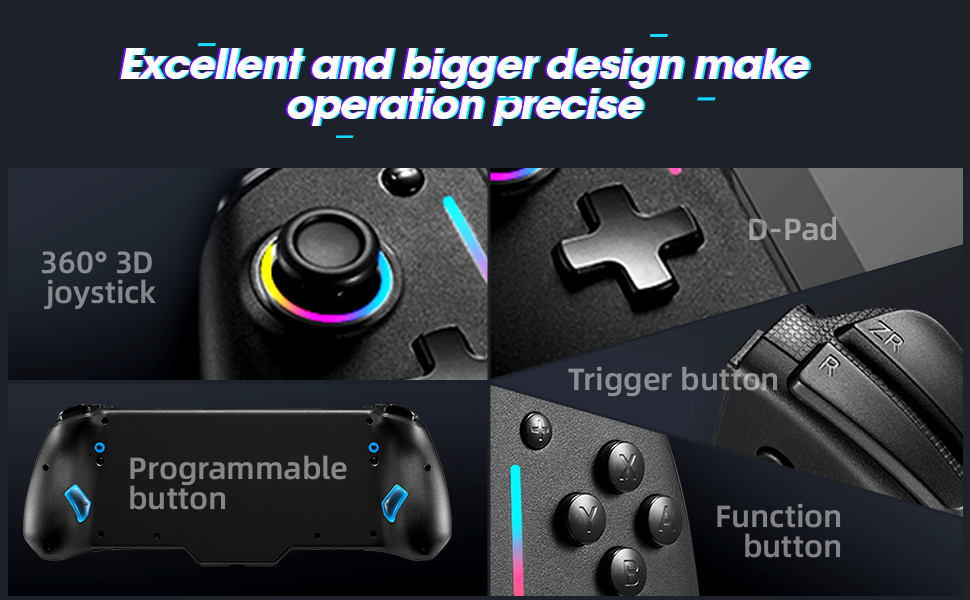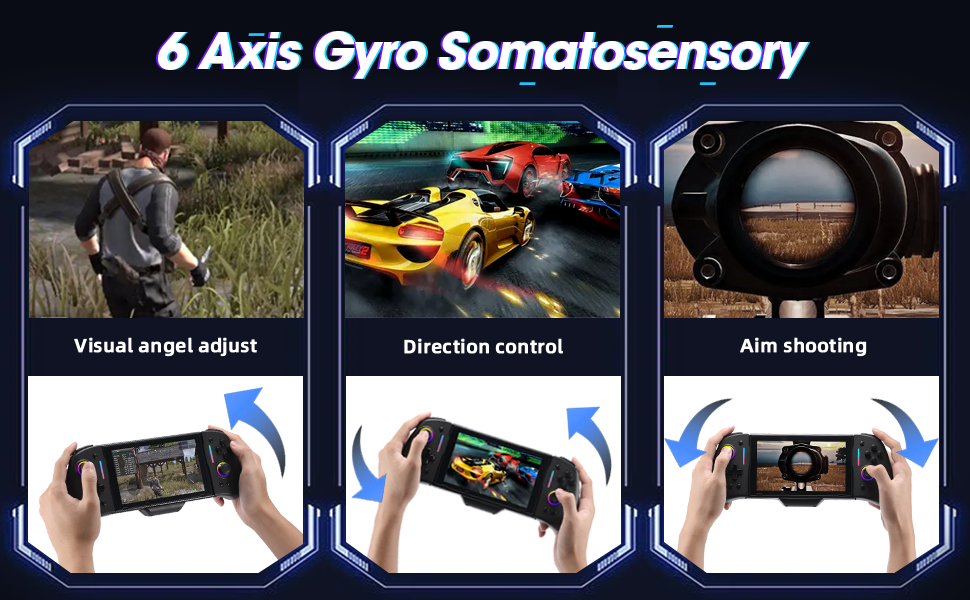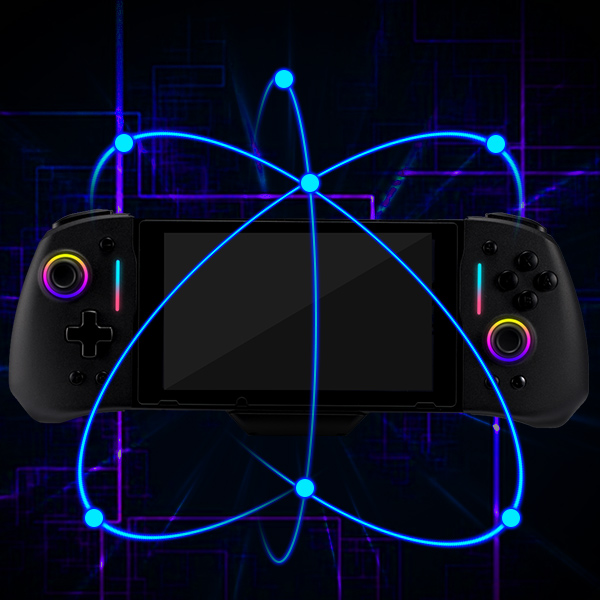 6-Axis Somatosensory
Bulit-in one accelerometer and one gyroscope in each controller, improving games accuracy and precision and motion controls to rapid start/stop motion without delay.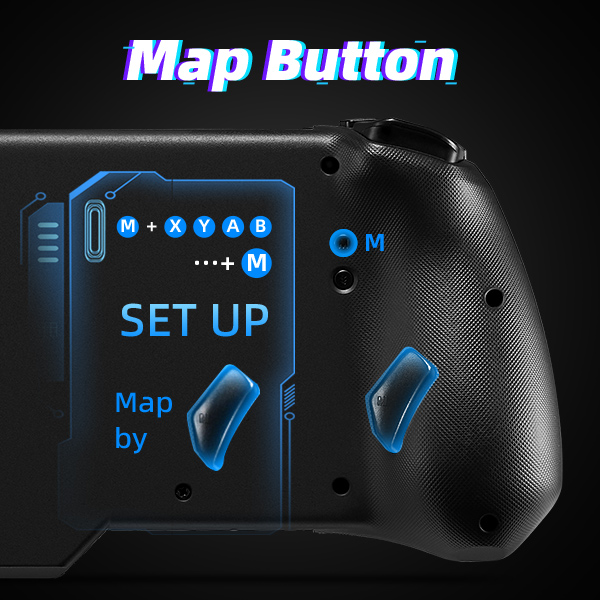 Back Map Button
M button can set up and map X/Y/A/B/R .....to the square button. Players can easily press the hard-to-reach button via 3L/3R., which will simplify buttons operation and increase the chance to win the games.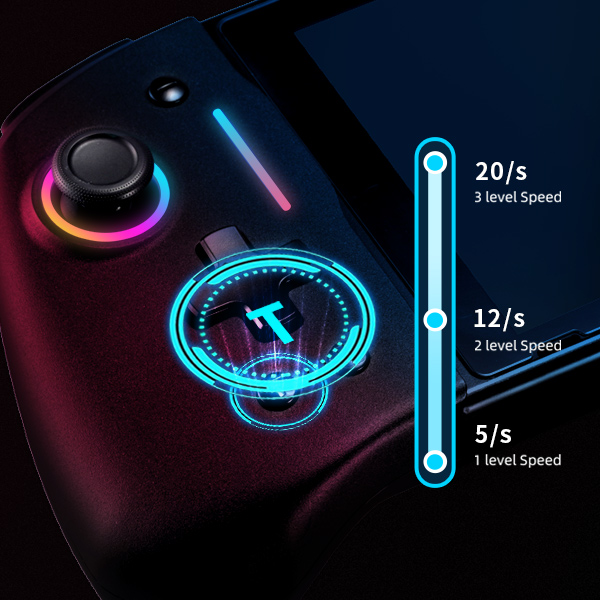 Turbo Function
Built-in Turbo function makes this switch joycon play arcade or action games easier. One-click to do repetitive actions help extends the service life of the buttons by reducing the frequency of pressing buttons.
---
Features & details
[Comfortable Grip] The Joycon grip targets streamlined and Ergonomics design makes you feel full and comfortable. Wired Connection to the switch console in handheld mode. No discomfort after playing for a long time.

[8 colors LED Light & Different Modes] Well-designed Adjustable LED light of 8 different colors! This is the COOLEST controller has 7-colors & rainbow LED light, plus different light modes. You can change the style you like with the light button!

[Double Shock & 6-Axis Gyro] Have 4 levels of adjustable dual vibration motors that provide you excellent vibration feedback to enhance the game immersion. Built-in 6-axis gyro, somatosensory tracking flexible movement and direction change, speed, and precision, you can achieve highly accurate positioning and no input lag time.

[Back Map Button] This wired controller has back assign button (M) which can map one of button to the rectangle button during using this joycon. You can set up one of the X/Y/A/B/Z/L.....button to map it on the rectangle button, making it easier to activate hard-to-reach buttons.

[Ergonomic&Non-Slip Design] Ergonomic hand - fit design with Lightweight materials make wired joycon controller game-time comfortable. Bigger button and joysticks avoid pressing other buttons by mistake. The back of joycon is designed with a special anti-skid pattern, which help increases friction and reduces the unpleasant experience caused by hand sweat.