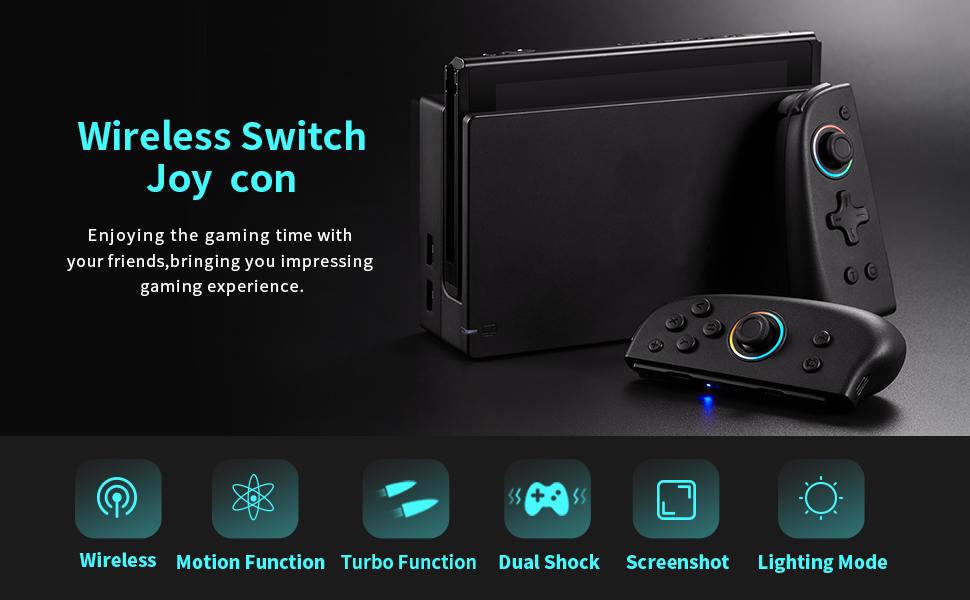 Screenshot & Home Button
Press the screenshot key to record your fantastic game moments, then you can share them with your friend. You can press the HOME button for 1-2 seconds, and then the switch will wake up.
Breath Mode
Button Combinations: Hold T button then Press the joystick Twice Effects:
8-color auto cycling
Rainbow Light breath mode
Turn off the light
Press down the Joystick twice to change light pattern. (Press down the Joystick twice to change light pattern. Controller will vibrate when adjusting)
6-Axis Gyro Somatosensory
Built-in 6-axis gyro motion controls to rapid start/stop motion without delay.
Vibration
Decent dual-vibration motors. The vibration function can express a wide variety of vibrations, and the realism in the game will be up.
Joystick
Improved all angle joystick, play with optimal precision.
Buttons
Well-selected conductive silicone button pad, play comfort and Precision.
D-pad
Redesigned D-Pad design,bring you the most reason-able and comfortable button layout.
Trigger
Bigger trigger button bring a more comfortable feeling of pressing.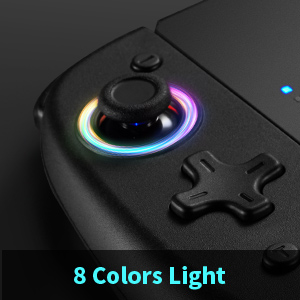 Button Combinations: Press&Hold the T button and joystick, then release to change color: Red, Orange, Yellow, Green, Cyan, Blue, Purple, Rainbow.
Press&Hold the T button and joystick to change the brightness, then release the joystick to fix the brightness. The controller will vibrate when adjusting.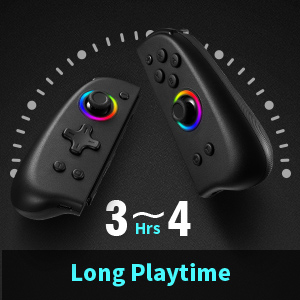 Long playtime: Up to 10 hours of playing time. Automaticlly charged when on handheld mode, need 2-3 hours to be fully charged.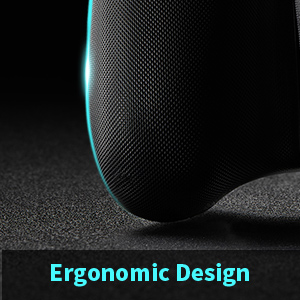 The curved design used when replacing the Joycon is different from the original controller, and its back is convex, which makes the holding posture more natural and comfortable. At the back, there are Non-Slip Patterns & Particles made by 3D engraving technology.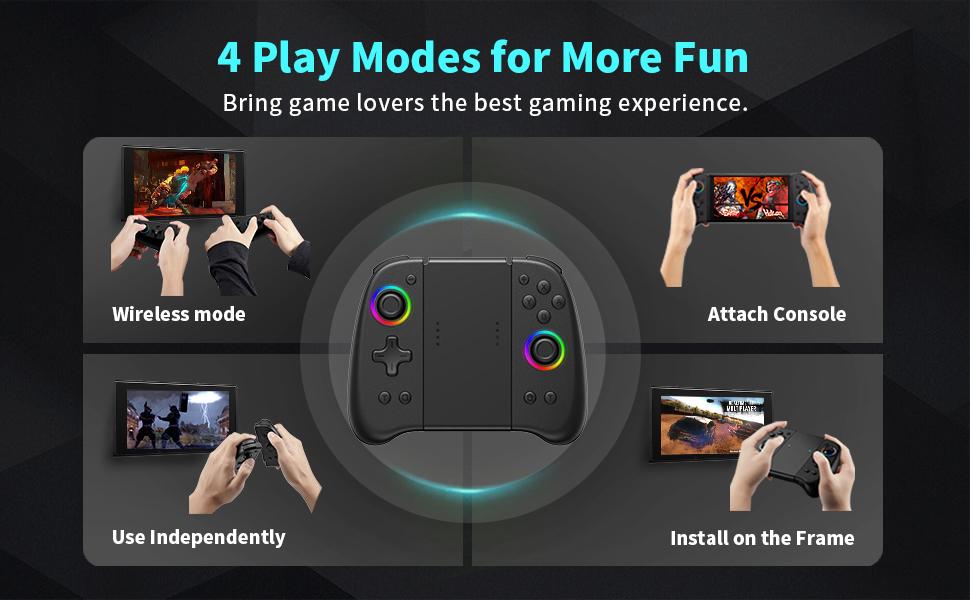 ---
Features & details
[8 Colors LED Ring Light & 3 Different Modes] Well-designed Adjustable LED ring light of 8 deifferent colours. This is the COOLEST Joycon controller that you could buy on the market, plus 3 different light modes: Single Colour Mode, Color Swifting(Breathe) Mode, and Rainbow mode.
[Ergonomic Non-Slip Design] With the innovative ergonomic design, our tailor-made pro controllers provide you with the special NON-SLIP PATTERNS and PARTICLES made by 3D engraving technology, plus the STREAMLINE COMFORT CURVE to bring you the most enjoyable gaming experience.
[360° All Angle Joystick & Customized D-Pad] Our elite controllers use the enhanced ALL ANGLE JOY-STICK, which can track your operation 360° precisely. Also, we add a CUSTOMIZED D-PAD to our spit pad to create a more reasonable and comfortable button layout.
[Motion Control with Optimal Precision] With our EXCLUSIVE 6-AXIS CUSTOM GYRO, our controllers are able to track even the slightest movement. Whether it's aiming a rifle or swinging a racket, this controller can reappear your movements most accurately.
[TURBO Burst-Fire & Dual Vibration] In the TURBO MODE, experience firing mutiple shots within one second, to get the advantage in a competitve game by firing much faseter than your competitors. Also, our custom DUAL SHOCK POWER MOTORS give you the most shocking and realistic experience.