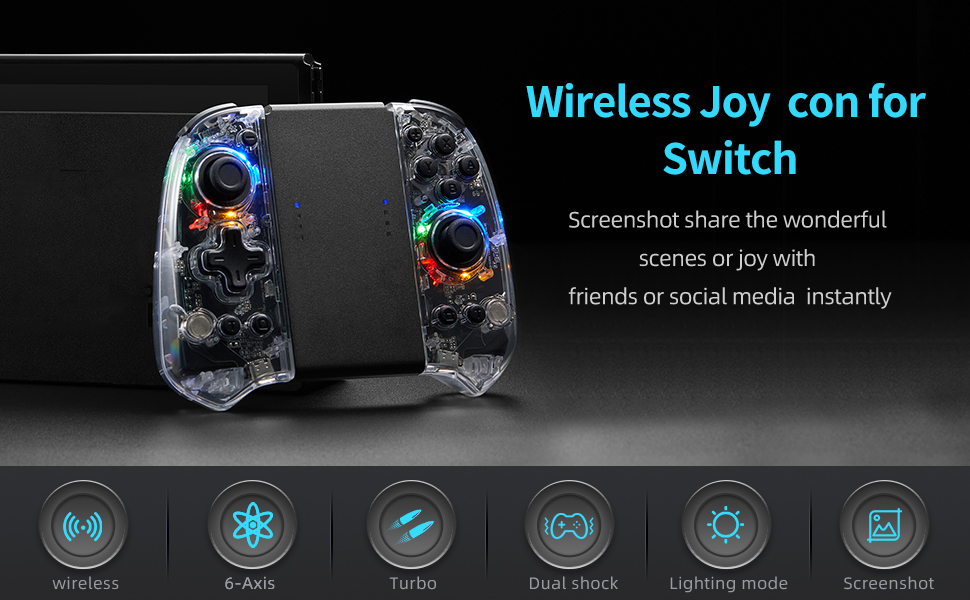 This Wireless Joy con is compatible with all systems of Switch, including the latest Switch OLED. The best alternative switch controller for Switch games.With a smooth wireless connection, the operation response is fast and the operation delay is low.
Trigger: Bigger trigger button bring a more comfortable feeling of pressing.
Joystick: Improved all angle joystick, play with optimal precision.
D-pad: Redesigned D-Pad design,bring you the most reason-able and comfortable button layout.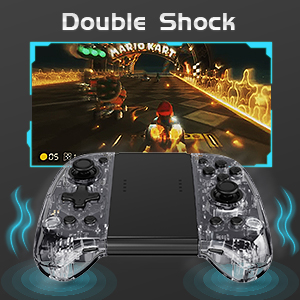 Decent dual-vibration motors. The vibration function can express a wide variety of vibrations, and the realism in the game will be up.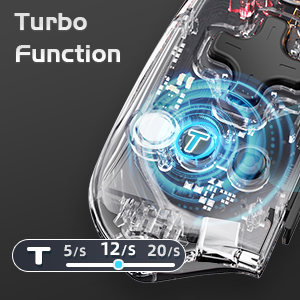 In the turbo mode, experience firing multiple shots within one second, to get the advantage in a competitive game by firing much faster than your competitors.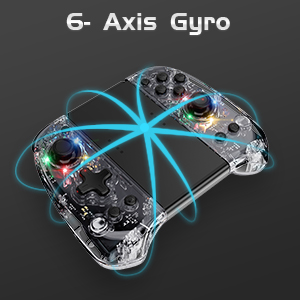 Built-in 6-axis gyro motion controls to rapid start/stop motion without delay.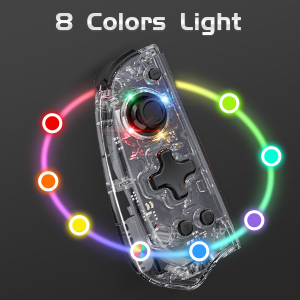 Well-designed Adjustable LED ring light of 7 different colors, greatly matches your style. The joy con controller has 7 colors & rainbow LED light, plus 3 different light modes.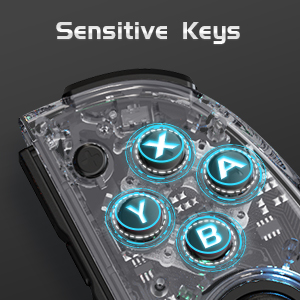 Sensitive buttons bring you a faster gaming experience. Let you fully experience the fun of speed games.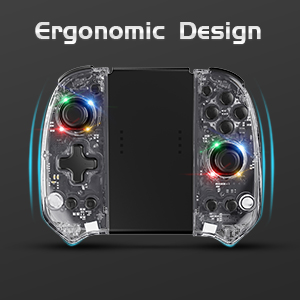 The curved design used when replacing the Joy con is different from the original controller, and its back is convex, which makes the holding posture more natural and comfortable.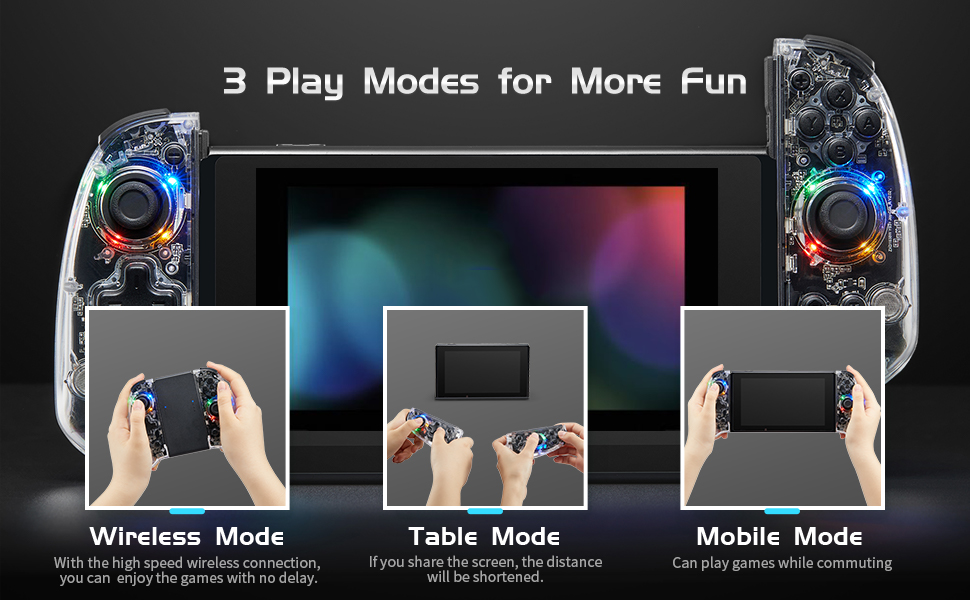 Three play modes for more fun.
Wireless mode: With the high speed wireless connection, you can enjoy the games with no delay.
Table mode: If you share the screen, the distance will be shortened.
Mobile mode: You can play games while commuting.
---
Features & details
[Joypad Controller for OLED & Switch] It is ideal replacement for original Switch, which is perfectly compatible with Switch, including the latest OLED. The left and right controller can be used alone, which is suitable for multi players combat or cooperative playing.The connection is fast, simple and stable, supports 3 playing modes: wireless mode, table mode, mobile mode.And you can have fun alone and enjoy the gaming world with your friends together.
[8 LED Color & 3 Light Modes] Adjustable LED light of 8 different colors, greatly matches your style. The controller has 7 colors & rainbow LED light, plus 3 different light modes: Single Colour Mode, Breathing Color changing Mode, Rainbow Mode. It will provide you fancy gaming environment and exciting atmosphere.
[Adjustable Turbo & Precise Motion Controls] Improve games accuracy and precision! Depending on the game type, the rate of turbo can be adjusted to 5 times / 12 times / 20 times per second. Players can adjust the turbo speed to fit different games. High-performance wireless technology provides strong anti-interference and reliable signal, you can enjoy the large gaming space without any delay.
[Double Shock & 6-Axis Gyro] Have 4 levels of adjustable dual vibration motors that provide you excellent vibration feedback to enhance the game immersion:0%/ 30%/ 50%/ 75%/ 100%. Built-in 6-axis gyro, somatosensory tracking flexible movement and direction change, speed, and precision, you can achieve highly accurate positioning and no input lag time.
[Wake-up & Screenshot Function] The joypad supports the wake-up function. You can press the Home button for 1-2 seconds, and then the switch will wake up. Press the screenshot key to record your fantastic game moments, then you can share them with your friend.